Railroad in Allenville Missouri
The railroad - The lifeblood of Allenville, MO . . .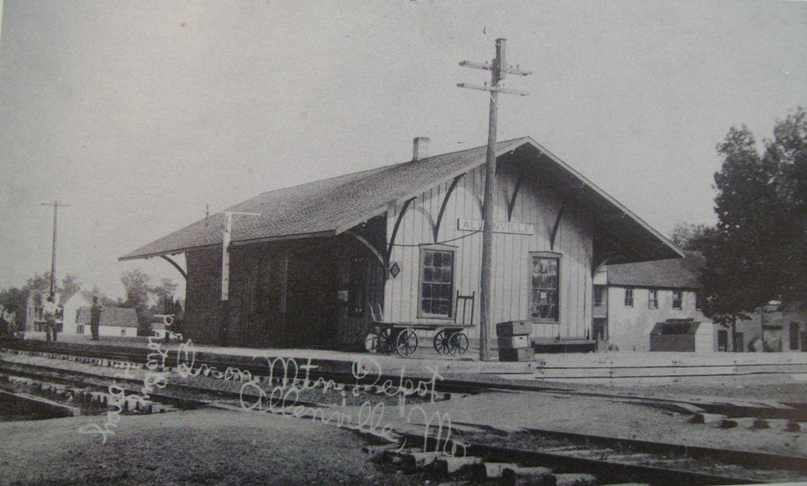 Allenville, MO Railroad Depot early 1900
Allenville's beginning is owed to the railroad. Even it's namesake was the president of St. Louis Iron Mountain Railroad. Much of the prosperity at the time was due to the ability to ship to and from the town. Many in the town were employed by the railroad. Even my grandfather, a resident of Allenville, retired from the railroad.
---
St. Louis Iron Mountain Railroad train schedule for Allenville
~~~~~~~~~~~~~~~~
An 1891 copy of the Grain Dealers & Shippers Gazetteer list these names as registered railroad shippers from Allenville Missouri: R.W. Groves, A.P. Kinder, L.B. Lumenburg, R.W. McNeely, D.A. Nichols, C. Shibel, C. Sparfield.
---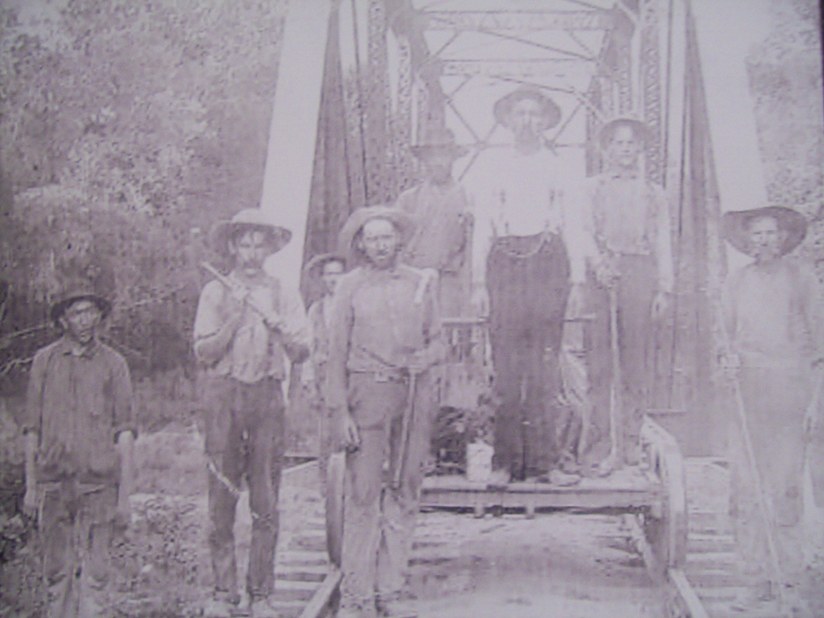 Railroad Crew
Early 1900 Railroad Crew - Allenville, Mo.
---
Railroad Scene - Late 1800 to Early 1900's
This picture shows Harry Hinton with his foot on the railroad car, along with several other men in early Allenville, MO.
---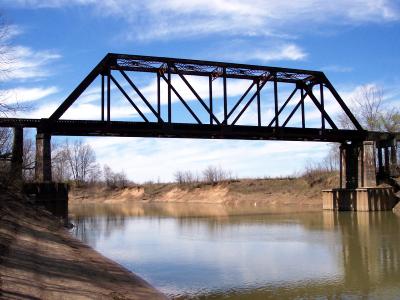 Railroad Bridge over the Diversion Channel
Allenville Missouri
Railroad Bridge built 1918 and is located between Allenville and Delta and goes over the Diversion Channel. Photo taken by Craig Meador 2004. Here's a link to his website for more photos of this bridge. http://bridgehunter.com/mo/cape/allenville-rr/


Just as the growth and prosperity came to Allenville from the railroad it left just as quickly with the building of a new railroad bridge at Illmo, MO and Thebes, IL. Here's a small story about it:
If you go through the town of Allenville today and blink your eyes you would miss it. What caused itís demise? About 1910 a railroad bridge was built across the Mississippi River at Illmo-Thebes and the mainline railroad traffic left. In 1916-18 the Diversion Channel was built near Allenville cutting it off from the South and west and putting Allenville in a potential flood plain. In 1920, the Missouri State Highway Department decided to not go through Allenville after all but bypassed the town and went down the Delta way.


---
History of Allenville, MO
Newspaper Articles about Allenville Missouri
John A Withers Distillery
Allenville, MO State Bank
Allenville, MO Post Office
Allenville, MO General Stores and Mercantiles
More General Stores and Mercantiles
Religion in Allenville, MO
Allenville Missouri School
Allenville Missouri Biographies
Allenville, MO Photo Gallery
Discuss Allenville, MO